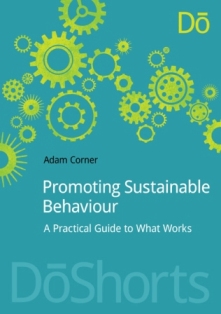 This 62 page e-book is a concise and thoughtful explanation as to how sustainable behaviour can be achieved in households, whilst commuting and within organisations. Its chapters take you through a considered thought process, and by doing so, gives the reader an understanding as to why sustainability is not adopted, on the whole, intrinsically as a personal or organisational core value.
A particular insight is chapter 5 which looks at the physiological way of bringing about change without using "scare tactics". It advocates that images of nature being harmed are not an effective way of promoting sustainability and that positive actions relating to peoples' everyday activities are far more effective.
Throughout the book, real examples are cited (or links to websites) to explain particular theorems. This brings the book to life.
You can download the e-book to many different e-readers or you can read the book directly on your computer through the website of Do Sustainability. However, I have two small gripes; the first is that I couldn't directly download this to my Kindle from the website but I am assured you can from Amazon. The second is that whilst the book is insightful I think the cost of either buying or renting the books may be a prohibitive barrier.
If you would like a thought provoking 2 hour (max) read – I would recommend this.