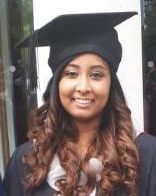 ESP has been the perfect stepping stone towards fulfilling my career aspiration of becoming a Chartered Urban Planner since graduating from the University of Leicester with a 2.1 Honours Degree in Geography. Studying a Bachelor of Arts degree, I considered specialising in urban development and attained a place at the University of Birmingham in the Regional and Urban planning Masters programme alongside my role at ESP.
My perception of the planning sector was limited to urban planning and my role at an environmental consultancy has enlightened me to the complexity of planning processes and to the world of design particularly in the landscape architecture sector. Since beginning my role as an Environment and Landscape Assistant with both the environmental and landscape consultancy teams, I have decided to take a year out and gain some hands-on experience to apply my current skillset and knowledge in the 'real world'.
I have been able to advance and diversify my GIS skills from university, through learning how to use specialist software such as QGIS, CorelDraw and AutoCAD in order to assist in the creation of landscape restoration and development designs for our clients. I have also contributed to the graphic design work for the Company's marketing materials. My role is not limited to design, however. Working in a multi-faceted company like ESP, I have been given the responsibility to contribute to landscape and visual impact assessments and to the Company's quarterly newsletter and legal update system for clients. Working in a small firm like ESP means I have to be flexible!
I have been given the opportunity to work with different clients on different tasks whether it is for landscape designs or for the environmental side of the business. This has greatly developed my time management skills. As a plus, the company has been flexible and allowed me to work around my other job and commitments which of course is reciprocated to cater for business demands.
This mutual relationship has been enhanced by being invited to and acknowledged in Board meetings and landscape visits. In addition, I have attended events in the environmental sector, such as the Staffordshire Business Environmental Network (SBEN) networking event where we discussed plastics in the circular economy – over warm chocolate brownies!
I have also assisted with an environmental audit as part of an ISO 14001:2015 compliance obligation evaluation to ensure that the client Company was adhering to the appropriate Regulations. To support this particular client, I also created a drainage plan from survey through to plan production, in order to complement the emergency preparedness processes that the Company was developing.
ESP provides numerous opportunities for growth and development on a personal and professional level whether it is through working with Chartered Landscape Architects, IEMA registered auditors or just conversing over lunch. I have been able to smoothly transition into my role and the team mainly due to our discussions in the office, as it is open plan so everyone joins in. I have my workstation and to make it personal, Judith has donated me a family of ceramic owls!
If you think this could be the workplace for you, why not take a look at our careers page at www.esp.uk.net/careers, where you will find information on our Student and Graduate placements, as well as other career opportunities.
Aarti Chamba
Environment and Landscape Assistant